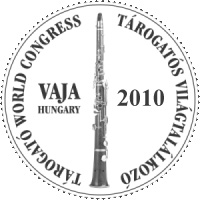 Tárogató World Meeting in Vaja
30 June – 4 July 2010

The 4th Tárogató World Meeting will be held in a historic environment, in the Vay Ádám Castle Museum in Vaja, a city famous for its appreciation of kuruc customs.
Professional days will be held from 30 June – 4 July. Tárogató players from all over Hungary and several European countries – Norway, Germany, England, France, Switzerland, Austria, Slovakia, Romania – will attend the event, as well as three players from the USA.
Nationally and internationally acclaimed experts will talk about the developments in tárogató research. Well-known tárogató players will give concerts and hold masters training courses.
Every participating tárogató player will have the chance to introduce themselves. Various styles of music will be presented: Hungarian, Slovakian, Romanian, South Slavic, Turkish, Norwegian, klezmer, etc. folk music, jazz and Hungarian music from the 17th century to modern times.
The International Tárogató Ensemble, formed by the participants, will visit the most famous places in Hungary from 4 July to 11 July and give a concert at each venue. There will be concerts in the dripstone cave of Aggtelek, the Catholic church in Rozsnyó, the Catholic church in Gyöngyöspata, the Museum of Military History in Budapest, the Franciscan church in Pécs, the Calvinist church in Nagyharsány, the castle of Csesznek in the highlands of Balaton, as well as the most popular tourist spots of Balatonfüred.
The Rákóczi Tárogató Association is the only organization in Hungary that brings tárogató players together from every country. Tárogató is considered to be a Hungarian instrument all over the world. The association does everything possible to popularize the instrument for both the Hungarian and foreign audiences.
R Á K Ó C Z I T Á R O G A T Ó A S S O C I A T I O N
Vay Ádám Museum, Vaja, 4562
Information: Csaba Nagy Tel/fax : (+36) 42/437-046 Mobile: (+36) 30/279-8452
E-mail: tarogatocenter@t-online.hu Web: www.tarogatocenter.hu